Roger Brown

Roger Brown, Wreck of the Ocean Ranger, 1982






Roger Brown, Ohio Snake Mound, 1973





Roger Brown, Couple Progressing Towards Mount Rincon, 1997





Roger Brown, Amusement Center




Roger Brown, Fall Out at Three Mile Island, 1979





Roger Brown, Cave Park, 1971





Roger Brown, Rosa Foetida Bicolor, 1994





Roger Brown, Lake Effect, 1980





Roger Brown, Farm, 1975





Roger Brown, War Zone, 1971





Roger Brown, Burned Hills -- May-October, 1997





Roger Brown, Memory of Sandhill Cranes, 1981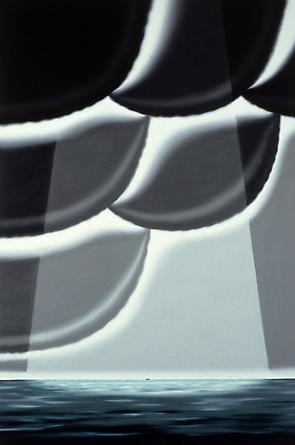 Roger Brown, Arrangement in Blue and Gray, The Artist and His Friend Fishing, 1985





Roger Brown, Looks Like Rain, 1975





Roger Brown, Bonsai #2, Climbing with the Cascae (Kengai), 1997





Roger Brown, Natural Bridge, 1971





Roger Brown, Rising Above it All, 1978





Roger Brown, Snow Belt, 1984





Roger Brown, Forest Fire, 1976





Roger Brown, Mountain Sides





Roger Brown, Gold Sky





Roger Brown (title/date unknown)





Roger Brown, Winter Storm II, 1993





Roger Brown, Sodium Light, 1985


Roger Brown




James Roger Brown was born on December 10, 1941, and was raised in Hamilton and Opelika, Alabama. A number of early experiences and observations in his formative years made deep impressions on Brown. By nature he was creative, and his parents encouraged his artistic bent. During childhood Brown grew especially close to his grand and great-grandparents, instilling an early interest in his family's origins, which later flowered in extensive research into his family's genealogy. Brown developed a deep interest in the material culture of the South, especially for folk art and hand made, functional objects. In adolescent and teen years he was influenced by the aesthetic of the comics, theatre architecture and interiors, and streamlined Art Deco and machine-age design. His religious upbringing in the independent, fundamentalist Church of Christ, was formative and lasting. In later years Brown became known as an astute and intuitive collector. Memories of his early experiences can be seen as his first, and perhaps most important collection. He retained them, distilled them into their essential aspects, and they became the visual and psychological engine for much of his work throughout his thirty-odd year career.












After high school Brown left the South, and although he lived much of his adult life elsewhere, he never severed his connection with the region. In fact, his life can be viewed in terms of successive regional experiences––senses of place––that contributed to his evolving artistic identity.











After a brief struggle between Religion and Art (he studied briefly to be a preacher at a Church of Christ affiliated school in Nashville), Art prevailed. In 1961 he decided to attend art school, and in the fall of 1962 he moved to Chicago where he first took classes at the

American Academy of Art

before enrolling at

The School of the Art Institute of Chicago

. His first experience at the School was brief, and in 1963 he returned to the

American Academy of Art

, where he completed a commercial design program in 1964. He then returned to

The School of the Art Institute of Chicago

as a full-time student from 1965 through 1968, and 1969 through 1970, where he committed to a fine art focus that he pursued with great intensity and originality for the next three decades. At

SAIC

he was introduced to a range of art historical periods and genres (he gravitated to Pre-Renaissance Italian art, Surrealism, American artists Hopper, Wood, and O'Keefe, and tribal art of many cultures), as well as to the legendary Maxwell Street market, antique and thrift stores, amusement parks, and other places of visual and cultural interest. In 1968 Brown received his BFA and in 1970 he was awarded his MFA, both from

The School of the Art Institute of Chicago

. With his MFA Brown also received Edward L. Ryerson Traveling Fellowship, which supported travels throughout Europe and Egypt, where he collected objects, images, and inspiration. In 1970 art dealer

Phyllis Kind

first exhibited Brown's work, beginning their strong relationship as the exclusive representative and ardent supporter of his work for his entire career.











Inspired by instructors Ray Yoshida and Whitney Halstead, works by Roger Brown and a number of fellow students were initially recognized and supported by curator Don Baum, who organized a series of exhibitions at the

Hyde Park Art Center

(all with individual titles, but later referred to under the rubric "Hairy Who") and the

Museum of Contemporary Art

. These and other artists later became known as "Chicago Imagist" artists.










Life in Chicago marked his official entry into the "art world", a realm he flourished in, and the subject of his continual and adamant critique. Collecting art and objects that functioned as source materials for his work coalesced into a practice and discipline that was shared by other artists, and reflected a collecting sensibility in Chicago. Encouraged by Whitney Halsted, Brown and his colleagues began to look to the work of self-taught artists, visiting

Joseph E. Yoakum

,

Aldo Piacenza

,

William Dawson

,

Lee Godie

, and others, responding to their works with a spirit of visual and intellectual curiosity and genuine respect, and ushering them inside the cultural arena, not to an outsider realm. Brown's interest in traditional folk art developed into a serious exploration of art that originated from beyond the mainstream. He became a fierce champion for the validity of such works, as equal or superior to works from the mainstream. Exploring and documenting art environments and the vernacular landscape became an ongoing pursuit as well. Trips to Mexico, Europe, Russia, and Africa fueled his work and his collection.











In 1972 Brown was featured in the book

Fantastic Images: Chicago Art Since 1945
by Franz Schultz. Also in that year Brown began a close relationship with architect George Veronda, and at this time architecture and landscape became integral themes in his work. Brown's mediums eventually included sculpture of found, assembled, and painted objects, theatre and opera sets, and mosaic murals, in addition to painting and printmaking.

In 1974 Brown purchased a storefront in Chicago; rehabbed by Brown and Veronda, 1926 North Halsted St. became his first home, studio, and collection environment.



In 1977 he began planning and construction of a residence and studio in New Buffalo, Michigan. Designed by George Veronda, the modernist home, studio, and guest house was completed in 1979. Brown divided his time between Chicago and New Buffalo, where he assembled a second collection of art and objects.
Brown's critical acclaim grew in the 1970s and 80s. He became known for responding adroitly to the fabric of 20th Century life, through works that addressed a range of subjects and issues, including: natural, architectural, and urban landscapes, the dichotomy of nature and culture, disasters of all types, current and political events, social, religious, and popular culture, autobiographical, personal, and sexual issues, the art world in many guises, cosmology, mortality, history, mythology, transformation, transportation, and the weather. Brown's exhibition history is extensive. He was represented for 27 years by the
Phyllis Kind Gallery
in Chicago and New York, and his work was shown in numerous solo and group exhibitions around the country and abroad. Major retrospectives of his work were mounted at the
Montgomery Museum of Fine Arts
in 1980, and at the
Hirshhorn Museum and Sculpture Garden of the Smithsonian Institution
, Washington, D.C. in 1987. Brown designed five murals for architectural settings: City of The Big Shoulders, a painting in the NBC Tower (Chicago); Arts and Sciences of the Ancient World: The Flight of Daedalus and Icarus, and Arts and Sciences of the Modern World: LaSalle Corridor with Holding Pattern (Italian glass mosaic) at the Ahmanson Commercial Development Company, 120 North LaSalle in Chicago. In 1994 his glass mosaic mural 20th Century Plague: The Victims of Aids, was installed in the Foley Square Federal Building in Manhattan. In September 1997 the last glass mosaic mural Brown designed, "Hull House, Cook County, Howard Brown: A Tradition of Helping", was dedicated at the
Howard Brown Health Center
in Chicago. The
Montgomery Museum of Fine Arts
organized the exhibit Roger Brown: A Different Dimension, which explored his sculpture and three-dimensional paintings, show at the
MMFA
and at the
Chicago Cultural Center
in 2004.
In the late 1980s Brown searched for a place to live on the west coast. He found property in the beach town of La Conchita, north of Ventura, and in 1993 his home and studio (designed by architect
Stanley Tigerman
) was completed. Brown adapted his work and collecting disciplines to Southern California. Still addressing a broad range of subjects in his works, Brown created condensed, serial works that focused on California experiences, including a series of ominous cloud-scapes, paintings of rose trees and shrubs, 27 Virtual Still Life (three-dimensional) paintings, and metaphorical explorations of Bonsai. Aware of his mortality (Brown lived with an illness for nearly a decade), many of Brown's works from 1995 to 1997 evoke the uncanny feeling of a prelude to a different dimension.
In 1997 Brown was in the process of developing a fourth home/studio/collection environment in an 1870s stone house in Beulah Alabama, so he could "come full circle" and have his Alabama home. He died on November 22, 1997, and was survived by his parents, James and Mary Elizabeth Brown and his brother, artist Greg Brown, who completed the house project and opened it as the
Roger Brown Rock House Museum
in 1999. Brown is buried in Opelika, Alabama. A cenotaph for Brown was placed next to the grave of George Veronda (Brown's partner from 1972 until Veronda's death in 1984) in Chicago's
Graceland Cemetery
.
Roger Brown's rich artistic career was at once intensely original and personal, while also exemplifying a significant aspect of Chicago's art history, which has had considerable impact on our art culture, in and beyond Chicago. In addition to his consistent and enormously prolific life as an artist, Roger was deeply involved in the research of his family's genealogy, tracing his lineage prodigiously, and discovering relationships to
Elvis Presley
and
Tallulah Bankhead
within his family tree.
In October 2004 Brown received a significant honor from the City of Chicago. The Chicago Commission on Human Relations' Advisory Council on Lesbian, Gay, Bisexual and Transgender Issues inducted Roger Brown (among other notable individuals and organizations) into the world's only known municipally-sponsored hall of fame that honors members of the lesbian, gay, bisexual, and transgender (LGBT) communities. Information about the LGBT Hall of Fame, and Brown's induction into it can be found at
www.glhalloffame.org
.

A letter from Mayor Daley states:

"Mr. Brown's induction reflects the City's pride in his artwork and many accomplishments. His striking paintings contributed to the rise of the City of Chicago as an international center for the arts and his longstanding support for our gay and lesbian communities made a real difference in the lives of our residents. I am delighted to welcome Mr. Brown into the honored company of those for whom civic pride is a matter of personal responsibility."
text above found here